DEERHOOF RELEASE FIRST INSTALLMENT OF JOYFUL NOISE ARTIST RESIDENCY
NEW MUSIC BY NERVOUS COP, ONEONE, MURMURER, AND LES BON HOMMES OUT TODAY, PREVIEW SONGS AT DEERHOOF.NET
Watch Video Trailer With Song Previews: https://youtu.be/inoYLEkK3pY
Over the course of 2017, Deerhoof will release five LPs as part of Joyful Noise Recordings' Artist in Residence — a new Deerhoof record and four split 12″ LPs of side projects. An estimated 160 minutes of music. Today, the four separate projects are available for download, with one track each available for streaming on the band's website: http://deerhoof.net
– Nervous Cop – s/t: The follow-up to Greg Saunier + Zach Hill's drum duo record from 2003. Features all members of Deerhoof, playing together with Zach Hill + Andy Morin of Death Grips. 1 track, 18 minutes. / Stream: "Nervous Cop (2 minute preview)"
– Oneone – Alapla: First domestic release for this Japan-only EP from last year. Led by Satomi Matsuzaki and Saya (Tenniscoats), with Greg Saunier and
Takashi Ueno (Tenniscoats). 7 tracks, 21 minutes. / Stream: "The Theme of Oneone"
– Murmurer – s/t: Debut of new band featuring John Dieterich + Sam Owens (of Celestial Shore +Sam Evian) + Ches Smith (John Zorn/Marc Ribot/Secret Chiefs etc). With guest vocals by Satomi Matsuzaki + Cassandra Jenkins. Recorded by Eli Crews at Rivington 66. 8 tracks, 23 minutes. / Stream: "This Too Will Be Yours"
– Les Bon Hommes – Merrie Melodies: Recorded debut of Brooklyn band featuring Greg Saunier (on guitar + vocals) + William Kuehn (of Rainer Maria) + Deron Pulley (Deerhoof live sound engineer). 8 tracks, 19 minutes. / Stream: "La La La"
All the side projects are available digitally on a pay-what-you-want system, with the proceeds donated to non-profits. This first installment will benefit Brand New Congress, an American political action committee formed by former staffers and supporters of the 2016 Bernie Sanders presidential campaign with the goal of electing hundreds of new progressive Congressional representatives.
Head over to www.deerhoof.net to purchase digital copies of their Artist in Residence series.
Along with the new Deerhoof record, subscribers to the Artist in Residence series receive the four more colored vinyl LPs, limited to 777 copies. The records will be packaged inside a hand-numbered, custom wooden box set. Various surprises from the band are also included, possibly cassettes, flexi-discs, zines, and other items. For more details on Deerhoof's Joyful Noise Artist in Residence series, visit: https://www.joyfulnoiserecordings.com/products/2017-artist-in-residence
More details on Deerhoof's new album will soon be announced.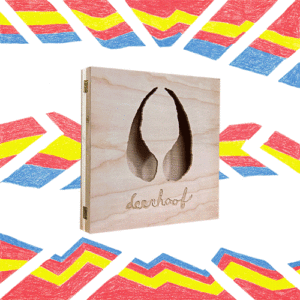 For over 20 years, Deerhoof has been an unparalleled force in modern music. The band's fearless inventiveness has made them one of the most inspiring and important groups making music today.
Deerhoof On The Web:
http://deerhoof.net
https://www.instagram.com/deerhoof/
https://www.facebook.com/Deerhoof
https://www.youtube.com/user/GregFromDeerhoof/playlists
https://deerhoof.bandcamp.com
Joyful Noise Recordings:
https://www.joyfulnoiserecordings.com