STARS RELEASE TWO NEW TRACKS
"PRIVILEGE" + "WE CALLED IT LOVE" OUT NOW: http://smarturl.it/privilege
ANNOUNCES GLOBAL DEAL WITH LAST GANG RECORDS /eONE
NEW ALBUM WILL FOLLOW LATER THIS YEAR
Toronto/Montreal's Stars today released two new tracks — "Privilege" and "We Called It Love" — alongside a statement below, listen here: http://smarturl.it/privilege
Hello. we're back. we have a new album. it was recorded in Montreal and Connecticut with the great producer Peter Katis. We love him and thank him for being there for us. It's our first with our friends at Last Gang. We made this record for ourselves, for our kids, and for you. And we are so happy and grateful that you're still listening to our music. here's a couple of songs from the record
xo stars
From the reflective beauty of Amy Millan's vocal in "Privilege" ("never got what you want, never got it") to Torquil Campbell's contemplative and contrary ("I don't believe that people change…but I've changed") on "We Called It Love," Stars return time and again to comfort and reassure us that within the experience of failure and fucking up is the path to a life well lived.
The new Stars music comes via a new global deal with Last Gang Records /eOne, which will see the band release a new album later this year. "We are thrilled to have Stars as part of the Last Gang family," says eOne Music Global President, Chris Taylor. "The world needs more poetry set to music and it's exciting that we'll get to help share it with the masses."
With approaching 20 years as a band and a storied album catalogue spanning 2001's Nightsongs, the romantic upheaval of 2003's Heart and 2004's Set Yourself On Fire, 2007's In Our Bedroom After the War, the downcast elegies of 2010's The Five Ghosts, the rejuvenation of 2012's The North and sub-base, dance club infused No One Is Lost in 2014, Stars continue to prove themselves some of the finest musical storytellers in the country, moving through life with their fans.
Stars are: Evan Cranley, Chris McCarron, Amy Millan, Patty McGee, Chris Seligman and Torquil Campbell.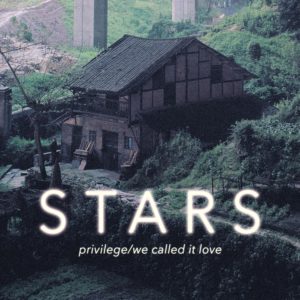 "Privilege" / "We Called It Love" Single artwork
Stars On The Web:
https://www.youarestars.com
https://twitter.com/youarestars
https://www.facebook.com/starsstars/
About Last Gang:
Last Gang is a music company founded in 2003 and credited with launching the careers of Metric, Death From Above 1979, MSTRKRFT and Crystal Castles. The company is also well known for its work with Arkells, Ryan Hemsworth, Operators, Lights, and Chromeo. Last Gang is an Entertainment One company.