EMA PREMIERES "DOWN & OUT" VIDEO VIA NPR MUSIC
FALL NORTH AMERICAN CO-HEADLINING TOUR WITH THE BLOW
NEW ALBUM EXILE IN THE OUTER RING OUT AUGUST 25, 2017 VIA CITY SLANG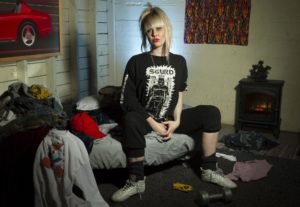 EMA premiered the video for her song "Down & Out" this morning via NPR Music. The clip for the "slowly simmering track — directed by Alicia Rose — features Portland, OR artist Taj Bourgeois alongside EMA, and can now be seen HERE.
"I came across Taj's work at a small house-gallery in PDX called Surplus Space. It was mostly sculptures including a crucified banana and some leather-bound S&M carrots. I loved it immediately.One of the things that impressed me the most about Taj is you can tell how hard he works. He is constantly creating work on pretty much zero budget, and it's brilliant. I thought that combination of broke-ness, innovation, desperation and hilarity would be a perfect match for 'Down And Out,'" says EMA (aka Erika M. Anderson). "Our relationship isn't super defined in the video but overall he's kind of like my alter-ego.  One theme that emerged was kind of male/female modes of destruction and frustration. Inward vs. outward desperation, vanity and lack thereof. Definitely our work in general shares the theme of transformation in a prosaic place. The little girl that comes in at the end is his daughter. They often make work together and how lucky of a kid to have a dad like that? To me the image of her cutting his hair at the end is kind of like the lamb taming the lion, a bit of tenderness in a cruel world."
"I loved Erika's idea of bringing Taj Bourgeois into the mix for this video. I thought his incredibly raw performance art could yield compelling 'vignettes of futility' that would juxtapose nicely with Erika's stripped down performance of the song. We had been talking for a while about recreating a set that was like her living room, which as her friend I've seen evolve alongside her art as a sort of physical nexus of for her writing process," says director Rose. "Visually, I was excited to toy with the ideas of female composure and restraint vs. male fearlessness and defiant flagellation, especially at this moment in fucked up history. We made the video around the corner from Erika's house at public access studio Open Signal and only had 10 hours to pull it all off which gave it a challenging time-based art element."
"Down & Out" is off of EMA's forthcoming album Exile In The Outer Ring, which will be released on August 25, 2017 via City Slang. The album is currently available for pre-order in multiple bundle packages via Bandcamp and select US/UK indie stores, with "Down & Out" as well as previously released tracks "Aryan Nation" and "Breathalyzer" coming as instant grat downloads with purchase: https://emaband.lnk.to/outerring.
Following a European and UK tour, EMA will embark on a North American co-headlining tour with The Blow this October and November. The dates will begin on October 26th in Seattle, WA, and continue through November 19th in St. Paul, MN, and includes an October 31st show in Los Angeles, CA and a November 10th show in Brooklyn, NY. EMA will be supported on all European dates by Dubais, the Arabfuturist multimedia music project of visual artist, cultural activist, and musician Nadia Buyse. A current itinerary is below.
After the success of 2010's Past Life Martyred Saints and 2014's prophetic The Future's Void (albums which earned her a late night TV debut on The Late Show with David Letterman and praise from The New York Times, The New Yorker, NPR, Rolling Stone, Pitchfork, Stereogum, SPIN, and many more), EMA retreated to a basement in Portland, Oregon – a generic apartment complex in a non-trendy neighborhood, with beige carpeting and cheap slat blinds. She returns with a portrait of a world both familiar and alien: The Outer Ring, a pitch-black world of half-empty subdivisions, American flags hung over basement windows, big-box stores and strip malls and rage. In a year dominated by working-class alienation, EMA — a Midwesterner who has never lost her thousand-yard stare — has delivered an album that renders American poverty and resentment with frightening realism and deep empathy.
The Outer Ring is the suburban world of people who've been pushed out of city centers by stagnating wages and rising expense, forced up against rural communities swallowed by sprawl. It's far more diverse than traditional images of "the suburbs" – vape shops and living-room hair salons exist next to Mexican grocery stores and Dollar General. But it's also more deeply marked by poverty and tension, and by the anger that comes from having your story and your struggles erased from the narrative.
The album, co-produced with Jacob Portrait of Unknown Mortal Orchestra, recalls EMA's roots in the noise-folk outfit Gowns, whose 2007 album Red State prefigured many of Exile's core themes, along with its mix of stripped-back folk ("Always Bleeds," originally a Gowns song), spoken word ("Where the Darkness Began") and noise epics ("Breathalyzer"). "I'm excited about this record because it has everything I personally like listening to: fat synth drones, heavy guitar riffs, singsong backing harmonies and narratives about small town leftovers and complex loves; whispered secrets, kids from the void, static turned into melody and layers of crafted feedback," says EMA. "This is my language, my sonic signature and psychic soundtrack. I'm ripping off the past 10 years of my own work and I couldn't be more pleased with the results."
Read EMA's full bio HERE.
EMA Tour Dates:
09/17 – Copenhagen, DK @ Ideal Bar @ Vega*
09/19 – Aarhus, DK @ Voxhall*
09/20 – Hamburg, DE @ Reeperbahn Festival
0921 – Munster, DE @ Sputnikhalle
09/22 – Amsterdam, NL @ Muzieklokaal*
09/23 – Cologne, DE @ King Georg
09/24 – Brussels, BE @ Autumn Falls / Botanique*
09/26 – Berlin, DE @ Berghain // Certain People Festival (w/ Blank Mass & Forest Swords)
09/27 – Munich, DE @ Kranhalle*
09/28 – St. Gallen, CH @ Palace*
09/29 – Zurich, CH @ Rote Fabrik*
09/30 – Paris, FR @ Le Batofar*
10/02 – Brighton, UK @ Sticky Mike's*
10/03 – London, UK @ Oslo*
10/04 – Manchester, UK @ Soup Kitchen*
10/05 – Leeds, UK @ Brudenell Games Room*
10/06 – Glasgow, UK @ Broadcast*
10/07 – Leicester, UK @ The Cookie*
10/09 – Nuremburg, DE @ Z-bau
10/10 – Ljubljana, SI @ Hrupni Večeri Noisey Nights Series, Gala Hala*
10/11 – Budapest, HU @ Durer Kert*
10/12 – Vienna, AT @ Arena*
10/13 – Prague, CZ @ Meet Factory*
10/14 – Warsaw, PL @ Smolna
10/26  – Seattle, WA @ Neumo's**
10/27 – Vancouver, BC @ The Fox**
10/28 – Portland, OR @ Mississippi Studios**
10/30 – San Francisco, CA @ Rickshaw Stop**
10/31 – Los Angeles, CA @ The Echo**
11/01 – Phoenix, AZ @ The Rebel Lounge**
11/03 – Austin, TX @ Barracuda**
11/04 – Dallas, TX @ Club Dada**
11/06 – Atlanta, GA @ The Masquerade – Purgatory**
11/07 – Durham, NC @ The Pinhook**
11/08 – Washington, DC @ DC9**
11/10 – Brooklyn, NY @ Brooklyn Night Bazaar**
11/11 – Philadelphia, PA @ PhilaMOCA**
11/12 – Somerville, MA @ Once Lounge & Ballroom**
11/13 – Portsmouth, NH @ 3S Artspace**
11/14 – Montreal, QC @ Le Belmont**
11/15 – Toronto, ON @ The Garrison**
11/17 – Detroit, MI @ UFO Factory**
11/18 – Chicago, IL @ Empty Bottle**
11/19 – St. Paul, MN @ Turf Club**
* Dubais supports
** Co-Headline w/ The Blow
EMA on the web:
https://www.facebook.com/cameouttanowhere
https://www.instagram.com/_ema_usa_
City Slang on the web: