THE CRIBS ANNOUNCE SURPRISE NEW ALBUM 24-7 ROCK STAR SHIT
OUT AUGUST 11, 2017 VIA SONIC BLEW, PRE-ORDER NOW
EXPAND FALL NORTH AMERICAN TOUR WITH NORTHWEST DATES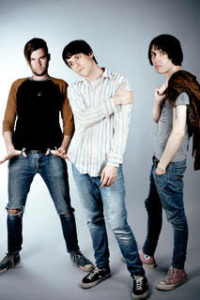 Credit: Steve Gullick
July 24, 2017 — The Cribs have announced the details of their surprise new album 24-7 Rock Star Shit, which will be released on August 11, 2017 via Sonic Blew. Today they debuted new single "Rainbow Ridge" (listen now HERE), which follows previously released tracks "In Your Palace" and "Year Of Hate," which will also be featured on the album. 24-7 Rock Star Shit is now available for pre-order HERE, with all three songs coming as instant grat download with purchase.
Recorded with Steve Albini in his Chicago Electrical Audio studio, 24-7 Rock Star Shit is the quickest thing The Cribs have ever recorded — done and dusted in five days — yet has also been six years in the making. The album's origins lie back in 2011, when the three Jarman brothers were making In The Belly Of The Brazen Bull. After recording the bulk of the album with producer Dave Fridmann in upstate New York, they flew straight to Electrical Audio and laid down four tracks for possible inclusion on …Brazen Bull. But the songs had such a spirit and sound of their own that they were laid aside for a rainy day. When it came time for the next album, there was a plan to make two LPs to represent two distinct strands of their work: a pop record and a punk record, one polished and melodic, the other raw and underworked. Yet the former took precedence, and became 2015's For All My Sisters. The punk album – hinted at in the press – instead became a thing of fan myth.
After touring wrapped around For All My Sisters, the band made it their mission to complete the punk album, and convened on Gary's house in Portland, OR, determined to keep that pop side in check. And in November 2016, exactly five years after that first visit, they re-entered Electrical Audio with the intention of recording another four songs, which soon became six. Three days later, they left with an album, all the songs captured as-live and straight to tape, onto 16 tracks. The resulting recordings, Ryan says, are "really immediate, really raw and it really represents where we are at this point, and that's all I really want from a record. Something that's stripped-back and unsterilized. I miss that in what's in vogue today, and I'm sure other people do."
"We've been in a band a long time – this is our seventh record – and we've been doing this for 15 years now," says Gary, regarding the unconventional announcement of 24-7 Rock Star Shit. "You get to the point where certain parts of the machinations of the music industry become monotonous and laborious. But we've got the luxury of being quite autonomous, we've got a dedicated fanbase who've been with us for a long time and we thought, why not just cut out all the extraneous stuff for once? This way we bypass as much of the usual protocol as possible – we just want to get it to people as quickly and easily as we can."
Fittingly, it's a fast release for an album that throbs with immediacy, from "Give Good Time"'s squeal of feedback to the yelped vocals and sense of paranoid urgency on "Year Of Hate." But it's not all about going full throttle: "In Your Palace" is as melodic as anything the band have done, and "Sticks Not Twigs," one of the last tracks written for 24-7 Rock Star Shit, is an acoustic track. It means that, though the fans have long had an inkling about The Cribs' mythical punk album, it's a safe bet that the finished thing will still surprise. A new era for The Cribs, then. An album that's as fresh as can be, as few steps as possible between writing sessions in Ross's Wakefield garage and your ears. And soon to be heard in a venue near you.
The Cribs today announced more headlining North American tour dates this fall, beginning September 14th in Minneapolis, MN. The dates take the band across the U.S. and into Canada before wrapping up in the northwest with an October 12th show in Portland, OR. The tour includes a stop at Chicago's Riot Fest the weekend of September 15th as well as shows in Brooklyn, NY on September 20th and Los Angeles, CA on October 6th. A current itinerary is below.
24-7 Rock Star Shit track listing:
Give Good Time
Year of Hate
In Your Palace
Dendrophobia
What Have You Done For Me
Sticks Not Twigs
Rainbow Ridge
Partisan
Dead At The Wheel
Broken Arrow
24-7 Rock Star Shit cover artwork:
 The Cribs Tour Dates:
07/28 – Cornwall, UK @ Leopallooza Cornwall
08/05 – Newcastle, UK @ Times Square (w/ Manic Street Preachers)
08/27 – Oxfordshire, UK @ The Big Festival
09/07-10 – Wales, UK @ Festival Number 6 Portmeirion
09/14 – Minneapolis, MN @ 7th Street Entry
09/15-17 – Chicago, IL @ Riot Fest
09/16 – Detroit, MI @ Third Man Records
09/18 – Toronto, ON @ Lee's Place
09/19 – Montreal, QC @ Fairmount
09/20 – Boston, MA @ Middle East Downstairs
09/21 – Brooklyn, NY @ Music Hall of Williamsburg
09/23 – Washington, DC @ U Street Music Hall
09/25 – Chapel Hill, NC @ Cat's Cradle
09/26 – Atlanta, GA @ The Earl
09/29 – Houston, TX @ White Oak Music Hall Upstairs
09/30 – Austin, TX @ Antones
10/01 – Dallas, TX @ Club Dada
10/03 – El Paso, TX @ Lowbrow Palace
10/05 – Phoenix, AZ @ Valley Bar
10/06 – Los Angeles, CA @ Teragram Ballroom
10/07 – San Francisco, CA @ The Independent
10/10 – Vancouver, BC @ Cobalt
10/11 – Seattle, WA @ Chop Suey
10/12 – Portland, OR @ Hawthorne Theatre
10/19 – Mexico City, MX @ Sala Corona
10/21 – Monterrey, MX @ Live Out Festival
The Cribs on the Web:
https://www.instagram.com/thecribs/
https://www.facebook.com/thecribs