KISHI BASHI
Music from the Song Film: Omoiyari
Joyful Noise Recording, out November 17th, 2023
"Omoiyari" is a Japanese word that means to have empathy and compassion for another person, which Kaoru Ishibashi believes to be essential to furthering inclusivity. This fall, Ishibashi, aka "K," the American indie-folk multi-instrumentalist and singer-songwriter known as Kishi Bashi, is set to release the companion album to his forthcoming documentary song film, titled Music from the Song Film: Omoiyari. Its two LPs—The Songs and The Score—showcase what is essentially the soundtrack to A Song Film By Kishi Bashi: "Omoiyari," the feature-length motion picture co-directed by Ishibashi and Justin Taylor Smith being released via MTV Documentary Films in theaters on October 6th. Focusing on K's own six-year journey of discovery surrounding his research of the incarceration of 120,000 Japanese Americans that followed the Japanese attack on Pearl Harbor in 1941, the film is part social justice documentary and part song-film experiment. Featuring Kishi Bashi live performances and improvisations on location, score, underscore, and recorded songs—all written during and about the artist's transformational dive into his personal minority identity and serving as a broad survey of the Japanese American experience as well as the incarceration—Music from the Song Film: Omoiyari serves as an evocative musical accompaniment to the lessons of empathy and compassion portrayed in the film and highlights the process and power of one of modern music's most talented musicians.
As a Japanese American born in Seattle who grew up in Norfolk, Virginia, K had sometimes grappled with identity but not until recent years did he feel compelled to truly explore it. Well before his career as Kishi Bashi began—prior to living in Boston, New York City, and Athens, Georgia, while studying and writing music and playing with acts like of Montreal, Jupiter One (which he co-founded), Regina Spektor, Sondre Lerche, and Alexi Murdoch, as well as releasing several successful and well-received albums of his own and touring the world—K had learned about the incarceration while in high school. But, like for most Americans, that history lesson was glossed over quickly, and only in the last decade did he start recognizing a need to dig into that time in order to help his own empathy and compassion evolve. As he says in the film, "For the first time in my life I felt like I needed to speak up…I'm not a confrontational person. I wouldn't call myself an activist. And then it hit me: I could write songs. To write about history or racism was something I had never done before. I wanted to see what had actually happened back then and hear stories from people that were there and to write songs from their perspective. I needed to know how this could have happened and why it's so important now to remember."
Throughout Music from the Song Film: Omoiyari, themes of resilience and perseverance interweave with tragedy and minority perspectives. The album's lead single, "Red, White, and Blue," is about " the disillusionment we often feel for our country and our political system, personified through heartbreak." As K says, "In both situations, we feel utter despair and hopelessness, but we know deep inside that as time passes, each wave of sorrow will be weakened and we will eventually return to our resilient humanity." The song suggests that through love and compassion we can create an ideal society, and serves as a centerpiece that reflects the larger themes of the film. Other songs, like "For Every Voice That Never Sang" and the instrumental "The Pilgrimage," reflect on the struggle of minority identity and how it feels to be on the outside looking in through that thematic lens of strength and durability (notably poignant yet hopeful, "For Every Voice…" was lyrically inspired by the Asian-American experience during the COVID-19 pandemic, and was originally commissioned by NPR Morning Edition's Song Project).
As K set out to examine those histories alluded to in the film's introduction, he began first through the creative outlet of music composition and collaboration. The Omoiyari project started as a symphony commission from the Nu Deco Ensemble in Miami, an orchestra with which he often collaborates. Called Improvisations on EO 9066 and based on the Executive Order from FDR resulting in the Japanese American incarceration, K credits this experience with the origin of the filmed documentary. The 30-minute symphony included what would become the companion album's songs "Theme for Jerome," "Summer of '42," and "Epilogue" and helped point the way to the improvisatory pieces which would become a large part of the project. "That was really the start of it," K says. "Nu Deco is the orchestra on the entire soundtrack, and they're a big part of the impetus to go out and film the location improvisations. Those moments later became full songs, and that process basically created the documentary. You actually see those pieces of the symphony unfold in the movie, you see those clips of me improvising and then the orchestra playing along with it. That was first, and then we continued to film more songs and more interviews and it spiraled into this feature. And here we are six years later."
Conceptually, K says, the Omoiyari project was intended to be a comprehensive artistic statement consisting of songs, score, underscore, and documentary, released all at once. But as the project progressed, its uniqueness allowed for some creative divergence from the plan. K would often write music for the film based on those aforementioned improvisations, some of which came from field recordings made on location and filmed for the documentary at sites around the United States and Japan directly connected to the incarceration or K's own ancestral heritage. Some of these themes or moments were later built into his underscore for the film, which can be heard underneath dialogue or moments of narration; much of this also exists on the companion album as variations on similar themes, prototype songs, or alternate orchestral versions. Additionally, a separate album, also called Omoiyari, was released in 2019 that contains studio recordings of nine Kishi Bashi songs written during the project. And all the while, in addition to composing, K was continuing his work as the film's co-director as well as its main subject and onscreen focus, a position that proved to be as fortuitous as it was distinctive.
"I always wanted a symphonic underscore for this film, and I did my best to incorporate a lot of the songs' melodies into it so you can hear them throughout," K says. "It's a unified vision. And the idea was that as the composer, subject, and co-director I would have this unique power to shape it in a way that satisfied me. My co-director, Justin Taylor Smith, and I were so aligned, coming from our previous work together on several snowboarding films, and that partnership was also unique because of our trust for each other. As a co-director, he had zero notes for me while creating the score, which is very rare. Most film composers don't have that luxury."
While the filmmakers did look to other music and political documentaries for inspiration, from the Yo-Yo Ma film The Music of Strangers to the Muhammad Ali/James Brown/BB King-heavy When We Were Kings, there simply isn't anything else like Omoiyari, so the project truly stands on its own as a multimedia presentation treading new ground in myriad ways. Executive produced by Sheila Nevins, the legendary former head of HBO Documentary Films and now MTV Documentary Films, the film will be released alongside its double album companion soundtrack and a small run of live Kishi Bashi theater performances. There is much to take in across all the art, history, and music Omoiyari contains, but as K says, sometimes the only way to see the whole picture of a part of history is to dive in deep.
"The Omoiyari project helped me open up as a musician, because we were able to connect and share music with survivors and people who experienced that history firsthand. And I realized that just playing a little violin for someone can brighten their day, and that the venue or performance situation doesn't need to be perfect. My goal as a musician is to entertain and bring joy to people's lives, and I became less precious with my music and learned to share more, and now I do that all the time. It was a true communion; the people told us their stories and we exchanged our enthusiasm and some music. My hope is that when people hear this album they'll be able to see the wide soundscapes that exist in my mind, and join me on a deeper dive into my full artistic palette. It's a way for people to accompany me on this journey, from how I came up with the music to discovering the truths behind a very complicated part of our history."
contact
Hi Res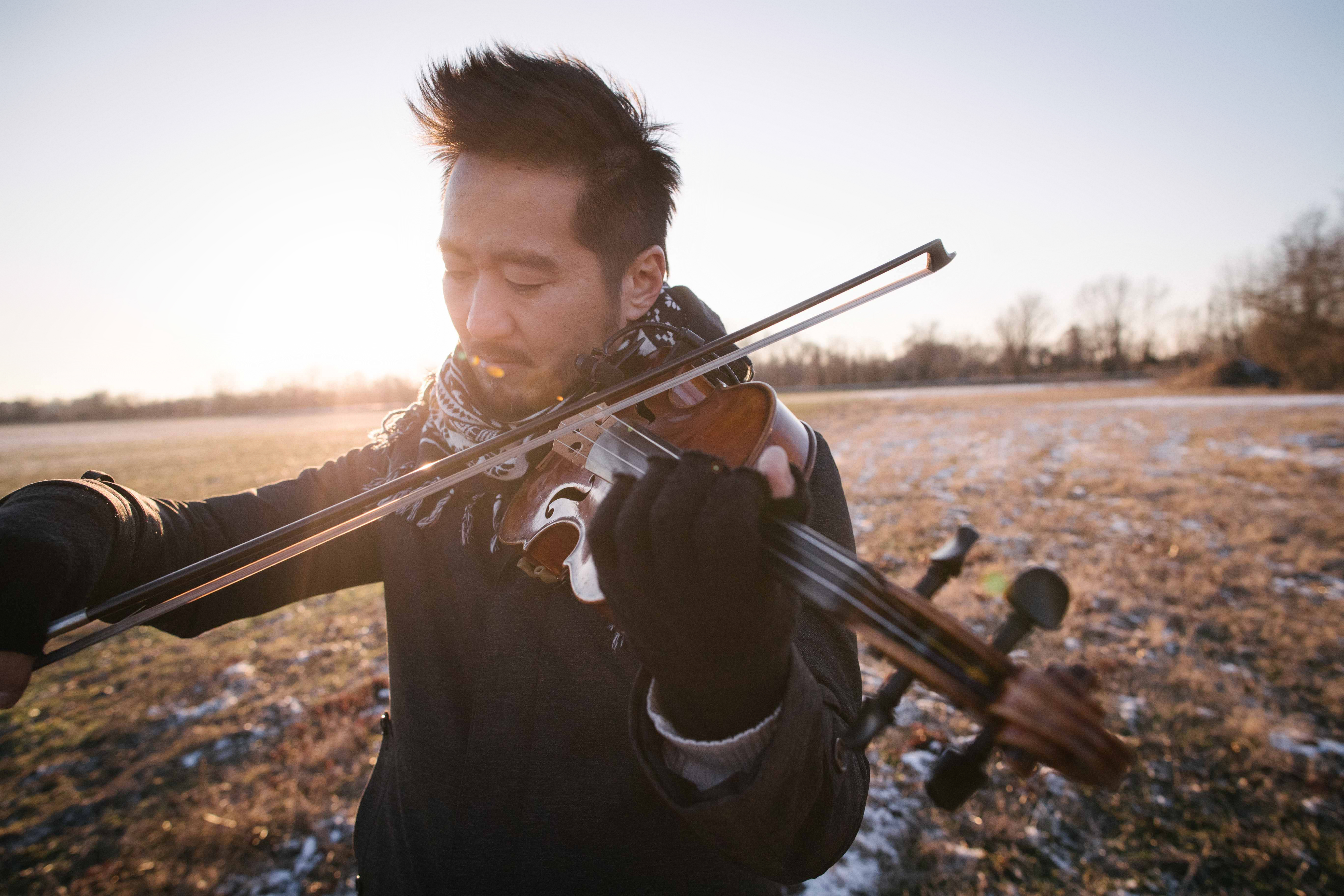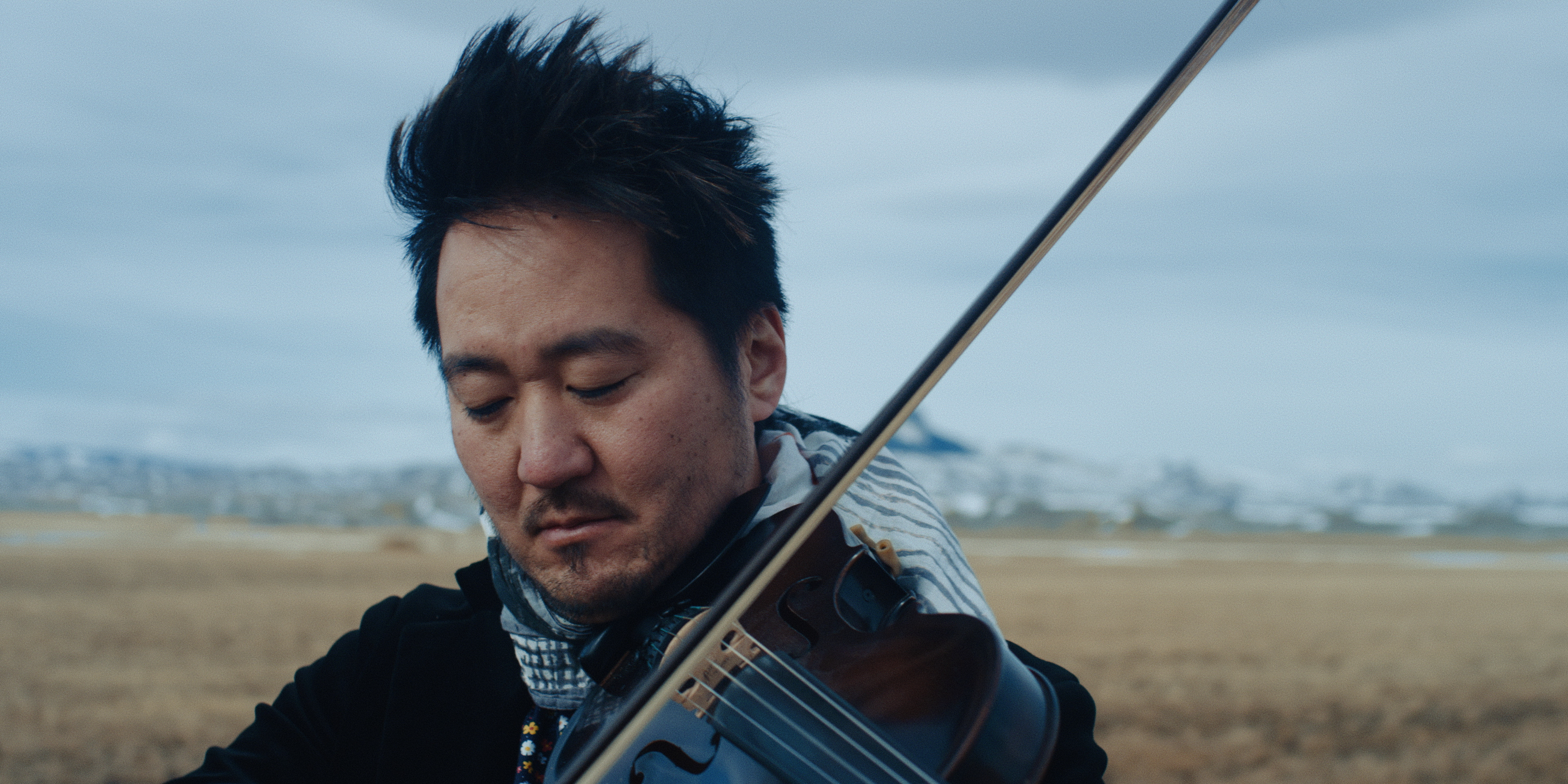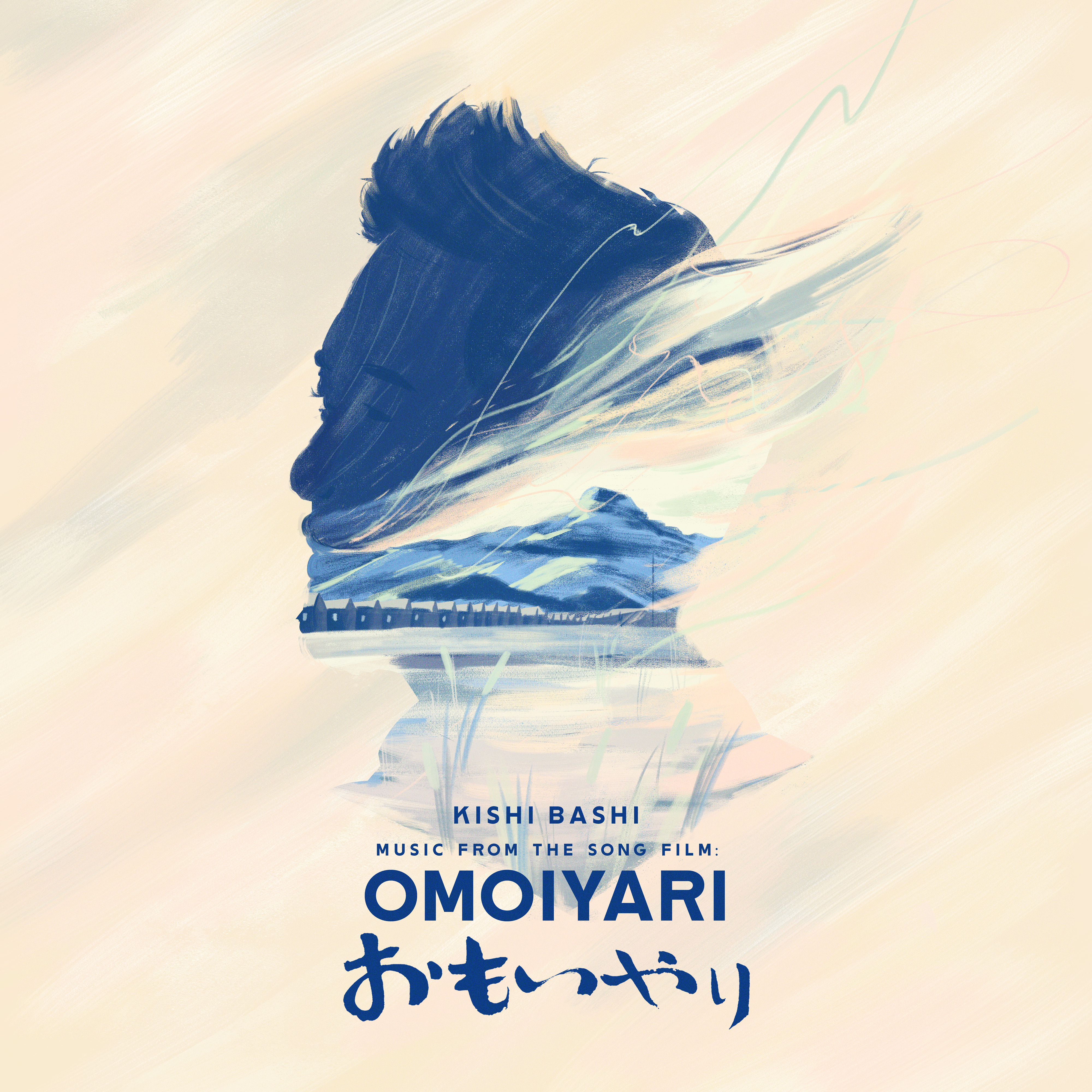 Links
TOUR DATES